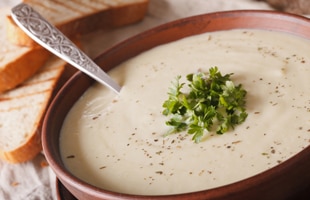 cauliflower soup
Dinner,
Prep time : 10 minutes
Cooking time : 40 minutes
Serving : 4 person
Phase
Intensive,Active 2,Active 1,Maintenance,
Dietary Requirements
Lacto-vegetarian,Ovo-vegetarian,Pescetarian,Lacto-ovo vegetarian,Paleo,Vegan,
84.5

5.6

6.26

4.7

3.2

0.52

4.7

1005
1 teaspoon olive oil
1 whole cauliflower, trimmed and cut into small florets
1 onion, finely sliced
2 teaspoon caraway seeds
1 vegetable stock (made with powdered stock or cubes)
1 bunch fresh parsley, leaves picked and roughly chopped
Heat olive oil in a large saucepan over high heat.
Add cauliflower, onion and caraway seeds.
Cook until onion is translucent.
Add vegetable stock and bring to the boil.
Boil 5-10 minutes or until cauliflower has softened.
Place half cauliflower and stock in the bowl of a food processor.
Process for 30 seconds or until smooth.
Remove from bowl.
Repeat with remaining cauliflower and stock.
Stir parsley through soup.
Related recipes