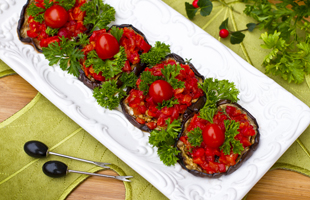 grilled eggplant with tomatoes and balsamic vinegar
Lunch,
Prep time : 15 minutes
Cooking time : 20 minutes
Serving : 6 person
Phase
Intensive,Active 2,Active 1,Maintenance,
Dietary Requirements
Lacto-vegetarian,Ovo-vegetarian,Pescetarian,Paleo,Vegan,Vegetarian,
71.6

2.91

8.6

8.5

1.33

0.131

6.0

121.3
3 eggplants, sliced into rounds
1 teaspoon olive oil
2 red Spanish onions, diced
2 clove garlic, crushed
800 gram diced tomatoes
1⁄4 cup roughly chopped mint
1⁄4 cup roughly torn basil
1⁄4 cup parsley
2 tablespoon balsamic vinegar
1 tablespoon capers, chopped
Preheat grill plate or barbeque grill to high.
Lightly spray eggplant slices with oil and season lightly.
Grill for 2 minutes each side, or until browned.
Transfer to a large mixing bowl and set aside.
Spray a large saucepan over high heat.
Add onions and garlic, cooking for 5 minutes or until onions begin to soften.
Add tomatoes and cook for a further 2 minutes.
Season to taste.
Pour tomato mixture over eggplants and add herbs, balsamic vinegar and capers.
Carefully toss.
Serve warm or cold.
Related recipes