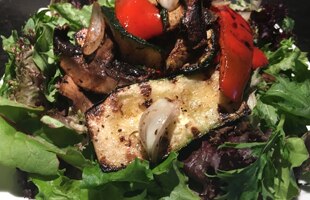 jamaican vegetable stack
Dinner,
Prep time : 10 minutes
Cooking time : 10 minutes
Serving : 4 person
Phase
Intensive,Active 2,Active 1,Maintenance,
Dietary Requirements
Lacto-vegetarian,Ovo-vegetarian,Pescetarian,Paleo,Vegan,Vegetarian,
47

2.32

4.27

4.05

1.54

0.2

2.97

100
1⁄8 teaspoon dried thyme
1⁄8 teaspoon dried cinnamon
1⁄8 teaspoon ground allspice
1⁄8 teaspoon ground black pepper
1⁄8 teaspoon ground red cayenne pepper
2 zucchini sliced long-ways
1 medium onion, quartered
1 large red capsicum
2 large portobello mushrooms thickly sliced
2 tablespoon balsamic vinegar
200 gram Mixed green lettuce
Combine spices in a large zip lock plastic bag. Add zucchini, onion, capsicum, mushrooms and vinegar. Seal and shake well to coat.
Lightly oil a large non-stick skillet. Add the vegetables mixture and sauté for 5 minutes or until vegetables are tender, adding a small amount of water if necessary to prevent from sticking. Remove from heat once cooked.
Stack the vegetables on a bed of mixed green lettuce.