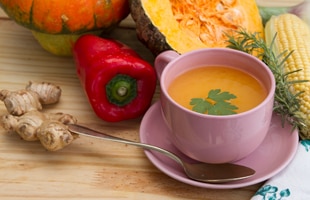 pumpkin and ginger soup
Dinner,
Prep time : 30 minutes
Cooking time : 20 minutes
Serving : 6 person
Phase
Active 2,Active 1,Maintenance,
97.6

5.3

15

11.3

1.3

0.3

3.2

386
1 teaspoon unsaturated margarine (10g)
1 tablespoon water (20mL)
1⁄2 medium finely chopped onion (50g)
1 teaspoon finely chopped fresh ginger or
1⁄4 teaspoon dried ginger
1 tablespoon wholemeal flour (10g)
2 cup pureed cooked pumpkin (600g raw)
2 cup chicken stock (500mL)
2 cup non-fat milk (500mL)
Salt to taste
Melt margarine and water in a saucepan.
Add onion, ginger and sauté until transparent.
Stir in flour.
Add pumpkin and cook for 5 minutes.
Gradually add chicken stock and milk.
Gently simmer for 5 minutes.
Rub through a sieve or puree in a blender.
Serve hot garnished with spring onion or chopped parsley.
Related recipes