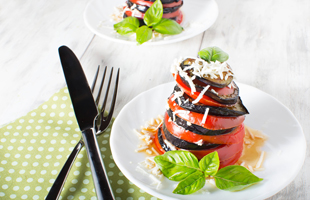 roast vegetable feta stack
Dinner,
Prep time : 15 minutes
Cooking time : 15 minutes
Serving : 1 person
Phase
Active 2,Active 1,Maintenance,
Dietary Requirements
Lacto-vegetarian,Pescetarian,Vegetarian,
339

23

23.2

20.7

14.6

6.3

12.4

686.4
2 baby eggplants sliced (100g)
4 thin slices pumpkin (100g)
1 small halved and seeded capsicum (100g)
2 baby zucchini split (100g)
1 thickly sliced roma tomato (75g)
60 gram thickly sliced reduced fat feta
1 teaspoon olive oil (5g)
1 teaspoon balsamic vinegar (5g)
Prepare and grill eggplant, pumpkin, capsicum and zucchini for 5-7 minutes.
Add tomato and grill for a further 5 minutes or until all vegetables are soft and lightly brown.
Stack vegetables on plate alternating with feta, saving a little for the top as a garnish.
Crumble remaining feta on top and sprinkle with oil and balsamic vinegar.
Serve warm.
Related recipes