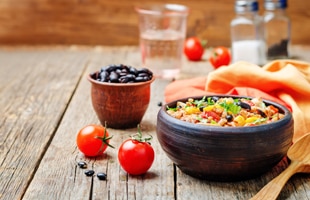 spanish rice
Lunch,
Prep time : 10 minutes
Cooking time : 40 minutes
Serving : 4 person
Phase
Active 2,Active 1,Maintenance,
306

7.15

51.2

7.5

7

1

4.17

887
1 medium peeled and chopped spanish onion (100g)
2 clove chopped garlic (6g)
2 teaspoon unsaturated oil
1 cup long grain rice (200g)
1 cup reduced sodium chicken stock (250mL
1 can chopped herbed tomatoes (400g)
1⁄2 teaspoon ground chilli (1.5g)
1⁄2 teaspoon Worcestershire sauce (2.5mL)
1⁄4 teaspoon saffron (optional)
1 teaspoon sugar (3g)
1 medium finely chopped red capsicum (150g)
10 medium sliced mushrooms (150g)
10 pitted kalamatta olives (75g)
1 tablespoon chopped parsley or basil
Stir-fry onion and garlic in oil and water until onion is golden.
Stir in rice and cook for 5 minutes.
Stir in stock and chopped canned tomatoes, ground chilli, Worcestershire sauce, saffron and sugar.
Cover, turn to low and simmer for 20 minutes or until just about cooked.
Add capsicum and mushrooms and cook for 10 minutes more.
Stir in olives and chopped parsley and serve.