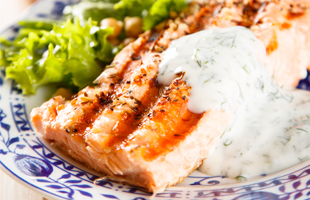 spiced fish with tomato and mint raita
Dinner,
Prep time : 30 minutes
Cooking time : 15 minutes
Serving : 4 person
Phase
Active 2,Active 1,Maintenance,
Dietary Requirements
Pescetarian,
400

46.6

5.5

5.1

21.3

6.3

1.7

127.2
1 teaspoon ground turmeric
1⁄2 teaspoon ground cumin
200 gram Nestlé Natural Yoghurt
600 gram salmon fillets
12 cherry tomatoes, quartered
2 spring onions, thinly sliced
2 tablespoon finely chopped fresh mint
1 cucumber, finely diced
1 clove garlic, crushed
Combine the spices with half the yoghurt in a shallow bowl.
Add the fish and coat with the mixture.
Cover and allow to marinate for 30 minutes if time permits.
Combine the tomatoes with the onion and mint.
In a separate bowl, combine the remaining yoghurt with the cucumber and garlic.
Cook the fish as desired, either on a lightly oiled barbecue or under a grill, turning once.
Serve fish with ½ cup rice, the tomato and mint raita and cucumber yoghurt.
Related recipes