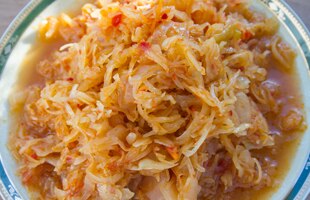 spicy braised cabbage
Lunch,
Prep time : 10 minutes
Cooking time : 20 minutes
Serving : 2 person
Phase
Intensive,Active 2,Active 1,Maintenance,
Dietary Requirements
Paleo,
111.2

5.4

10

8.9

3.7

0.6

7.5

515.6
5 cup chopped cabbage
1 cup beef broth/stock
4 clove crushed garlic
1 teaspoon olive oil
1⁄2 onion, slivered
1 teaspoon turmeric
1 teaspoon cumin
If you enjoy spicy food, also add 1 teaspoon chilli peppers and 1/2 teaspoon cayenne pepper
Instead of turmeric, cumin and cilantro you can use 1 tablespoon chilli powder
Heat pan, lightly spray with olive oil.
Add onions, cook until translucent and add garlic.
Sautee a few minutes.
Add cabbage.
Toss, then add the rest of the ingredients, mix well.
Braise on medium/low heat until liquid reduces to half.
Stir often to infuse flavours.