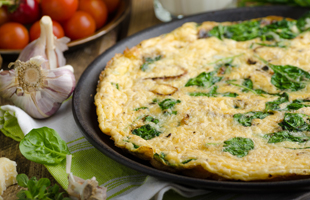 spinach and mushroom omelette
Breakfast,
Prep time : 5 minutes
Cooking time : 15 minutes
Serving : 1 person
Phase
Active 2,Active 1,Maintenance,
Dietary Requirements
Lacto-vegetarian,Ovo-vegetarian,Vegetarian,
218

21.3

3.5

3.1

13.2

5.2

0.9

242.2
2 eggs
1 tablespoon grated light cheese
1⁄2 cup spinach
1⁄2 cup mushrooms, sliced
dash of skim milk
Gently whisk eggs with milk, then add cheese, spinach and mushrooms.
Pour mixture into a heated non-stick pan lightly sprayed with olive oil spray.
Cook until set, lightly browning the top of the omelette under a grill if desired.