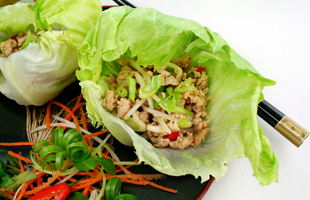 vietnamese chicken lettuce cups
Dinner,
Prep time : 10 minutes
Cooking time : 20 minutes
Serving : 4 person
Phase
Active 2,Active 1,Maintenance,
Dietary Requirements
Paleo,
193.8

20.6

6.5

5.8

8.8

2.6

3.2

954.9
400 gram chicken mince
2 clove crushed garlic (6g)
1 cm piece ginger, minced
1⁄2 teaspoon five spice powder
2 tablespoon hoisin sauce
2 tablespoon low sodium soy sauce (40 mL)
2 finely chopped seeded hot red chillies (optional)
4 large lettuce leaves (200g)
1 medium julienne cucumber (100g)
1 medium julienne carrot (100g)
Stir-fry chicken in a non-stick pan with garlic, ginger, five spice powder, hoisin and soy sauce and red pepper.
Season with salt to taste and allow to cool.
Prepare 4 lettuce cups in bowls.
Divide mixture between cups.
Garnish with salad of slice red capsicum, cucumber, carrot and celery strips and spring onions.
Top with 2 tablespoon fruit chutney.
Roll lettuce cup around mince and salad and eat as a sandwich.
Low in carbohydrate, light and refreshing.
Amount of chilli can be varied according to taste.