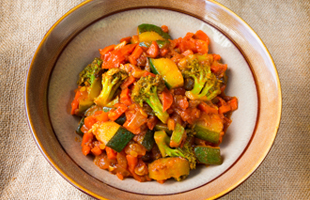 baked vegetables with italian sauce
Lunch,
Prep time : 10 minutes
Cooking time : 40 minutes
Serving : 4 person
Phase
Intensive,Active 2,Active 1,Maintenance,
Dietary Requirements
Lacto-vegetarian,Ovo-vegetarian,Pescetarian,Lacto-ovo vegetarian,Paleo,Vegan,
70

3.4

8.2

7.2

1.5

0.2

4.14

126
3 florets of cauliflower
1⁄2 zucchini
3 spears of asparagus
1 stalk of celery
1⁄4 cup leek
1 tablespoon olive oil
Olive oil spray
2 tablespoon of salt reduced stock.
1⁄2 cup Tomato puree
1⁄2 onion, finely chopped
4 tomatoes, skinned and chopped
1 clove garlic, finely chopped
1⁄4 cup of fresh basil
1 tablespoon no added salt tomato paste
To make Italian Sauce, heat oil in pan and fry onion, leek and garlic.
Combine Tomato puree, tomatoes, tomato paste and basil and add to pan. Simmer for 20 minutes.
Spray baking dish with Olive oil spray. Chop and combine remaining vegetables and place in baking dish.
Lightly spray with olive oil spray and add stock.
Bake in oven until soft and brown
Remove from oven and pour over Italian sauce.
Related recipes