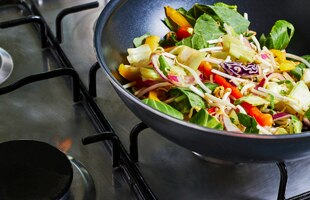 cabbage, zucchini and capsicum stir-fry
Dinner,
Prep time : 15 minutes
Cooking time : 10 minutes
Serving : 4 person
Phase
Intensive,Active 2,Active 1,Maintenance,
Dietary Requirements
Lacto-vegetarian,Ovo-vegetarian,Pescetarian,Lacto-ovo vegetarian,Paleo,
98

3.9

6.96

6.36

5.06

0.8

4.3

601.4
1 tablespoon peanut oil
1 medium red onion, sliced
2 medium zucchini, sliced
1 large red capsicum, sliced
1⁄4 medium Chinese cabbage, chopped
1⁄2 teaspoon dried crushed chilies
1 teaspoon fish sauce
1 tablespoon low salt soy sauce
1⁄2 cup vegetable stock
2 tablespoon balsamic vinegar
1⁄2 teaspoon artificial sweetener
1 cup bean sprouts
1⁄3 cup chopped fresh coriander
Heat oil in pan, add onion, zucchini, capsicum and cabbage. Cook stirring until onion is soft.
Add chilies, sauces, stock, vinegar and sugar. Cook, stirring, until mixture boils, remove from heat.
Stir in sprouts and coriander. Mix well. Best made just before serving.
Related recipes