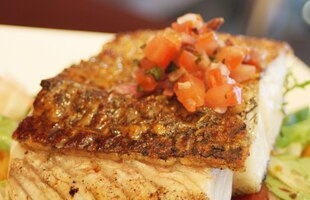 cajun fish with raita
Lunch,
Prep time : 20 minutes
Cooking time : 15 minutes
Serving : 4 person
Phase
Active 2,Active 1,Maintenance,
Dietary Requirements
Pescetarian,
317

35.9

20.2

10.13

9.5

3.5

3.26

289.36
4 thick barramundi or other firm flesh fish fillets (150g each)
2 tablespoon parmesan cheese (18g)
2 slice grain bread (30g)
1 teaspoon cajun spice
1 teaspoon cumin
2 teaspoon unsaturated oil
CUCUMBER RAITA
1 small carton non-fat yoghurt (200g)
2 cubed cucumbers (200g)
2 seeded chopped Roma tomatoes (200g)
1 tablespoon lemon juice.
Pat fish dry with kitchen paper and place on a greased baking sheet.
Blend parmesan cheese, grain bread, Cajun spice, cumin and oil together in a kitchen whiz.
Divide bread mixture between 4 fish fillets and press firmly on top.
Bake in 180°C for 15 minutes.
Whilst fish is baking, make the raita by mixing yoghurt, cucumber, tomatoes and lemon juice together in a small bowl.
Serve fish with cucumber raita on the side.
Related recipes