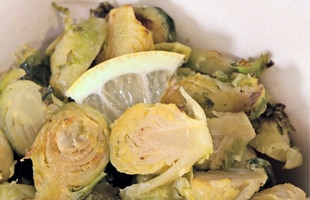 chinese brussels sprouts
Dinner,
Prep time : 10 minutes
Cooking time : 6 minutes
Serving : 2 person
Phase
Intensive,Active 2,Active 1,Maintenance,
Dietary Requirements
Lacto-vegetarian,Ovo-vegetarian,Pescetarian,Lacto-ovo vegetarian,Paleo,Vegan,
107

8.9

5.6

5.5

3.1

0.6

10.6

242
450 gram Brussels sprouts, shredded
1 teaspoon sesame or sunflower oil
2 spring onions, sliced
1⁄2 teaspoon Chinese five-spice powder
1 teaspoon light soy sauce
Trim the Brussels sprouts, then shred them finely using a large sharp knife or shred in a food processor.
Heat the oil and add the Brussel sprouts and onions, then stir-fry for about 2 minutes, without browning.
Stir in the five-spice powder and soy sauce, then cook, stirring for 2-3 minutes more, until just tender.
Serve hot.