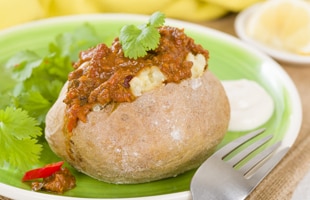 curried beef potato
Lunch,
Prep time : 10 minutes
Cooking time : 90 minutes
Serving : 4 person
Phase
Active 2,Active 1,Maintenance,
240

19.35

26.7

5.4

4.7

1.84

4.8

104.2
4 large evenly shaped potatoes (about 200g each)
1 onion, finely chopped
200 gram lean beef mince
2 teaspoon curry powder
1 tomato, finely chopped
1 zucchini, grated
1 tablespoon tomato paste
2 tablespoon of low fat natural yoghurt
Pierce the potatoes a few times with a small sharp knife and place directly on the shelf of a preheated hot (210°C or 415°F) oven and bake for at least 1 hour.
Leave in the oven for 1½ hours for really crispy skins.
Spray a non-stick frying pan with oil and heat.
Cook onion over medium heat for 2 minutes or until just soft.
Add 200g lean beef mince and cook for 5 minutes or until browned, breaking up lumps with a wooden spoon.
Stir in 2 teaspoons curry powder, finely chopped tomato, 1 grated zucchini and 1 tablespoon tomato paste.
Cook, stirring, for another 3 minutes.
Spoon the meat over the potatoes and top with a dollop of low fat natural yogurt.