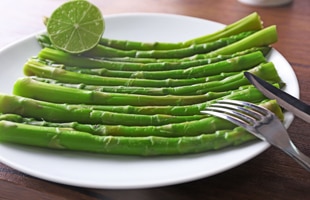 garlic asparagus with lime
Dinner,
Prep time : 5 minutes
Cooking time : 10 minutes
Serving : 1 person
Phase
Intensive,Active 2,Active 1,Maintenance,
Dietary Requirements
Lacto-vegetarian,Ovo-vegetarian,Pescetarian,Lacto-ovo vegetarian,Paleo,Vegan,
78.2

3.7

3.05

2.8

4.8

0.7

3.9

158
1 tablespoon olive oil
1 clove garlic, minced
1 medium spring onion, finely sliced
1 bunch fresh asparagus spears, trimmed
1⁄4 lime, juiced
Salt and pepper to taste
Heat olive oil in a large pan over medium heat.
Stir in garlic and spring onion, and cook for 1-2 minutes.
Stir in asparagus spears; cook until tender, about 5 minutes.
Squeeze lime over hot asparagus, and season with salt and pepper.
Transfer to serving plate, and garnish with lime wedges.