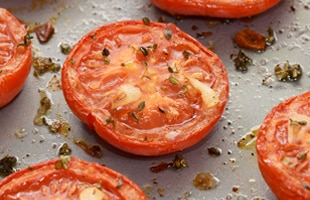 garlic baked tomatoes
Dinner,
Prep time : 10 minutes
Cooking time : 30 minutes
Serving : 2 person
Phase
Intensive,Active 2,Active 1,Maintenance,
Dietary Requirements
Lacto-vegetarian,Ovo-vegetarian,Pescetarian,Lacto-ovo vegetarian,Paleo,Vegan,
53

0.7

1.54

1.2

4.7

0.75

1.37

3.96
2 teaspoon olive oil
2 large garlic clove, crushed
1 teaspoon finely grated orange rind
4 firm roma tomatoes
Black pepper
Shredded basil leaves to garnish
Mix garlic, orange rind and pepper.
Chill for a few minutes.
Preheat oven to 200°C.
Halve the tomatoes
Place the tomatoes in an oven proof dish and spread the garlic mixture over each tomato half.
Bake tomatoes in the oven for 15-25 minutes, depending on the size of the tomato halves, until just tender.
Serve sprinkled with basil.
Related recipes