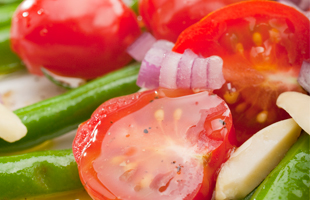 green beans with tomatoes and oregano
Lunch,
Prep time : 10 minutes
Cooking time : 10 minutes
Serving : 6 person
Phase
Intensive,Active 2,Active 1,Maintenance,
Dietary Requirements
Lacto-vegetarian,Ovo-vegetarian,Pescetarian,Lacto-ovo vegetarian,Paleo,Vegan,
91

4.4

7.6

6.02

3.4

0.5

5.5

17.8
600 gram green beans
1 tablespoon olive oil
1 small red Spanish onion, finely chopped
6 medium tomatoes, thickly diced
1 teaspoon artificial sweetener
1 tablespoon balsamic vinegar
1 tablespoon water
Add beans to pan of boiling water, boil 2 minutes, drain.
Rinse under cold water, drain.
Heat oil in pan, add onion, cook, stirring, until soft.
Add tomatoes and sugar, cook, stirring, 2 minutes or until tomatoes are just tender.
Stir in vinegar, water and oregano.
Place beans on serving plate, top with tomato mixture.
Serve warm or cold.