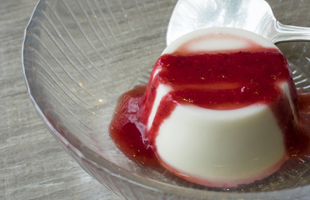 low fat lemon pannacotta with fresh strawberry sauce
Lunch,
Prep time : 0 minutes
Cooking time : 5 minutes
Serving : 6 person
Phase
Active 2,Active 1,Maintenance,
Dietary Requirements
Lacto-vegetarian,Ovo-vegetarian,Pescetarian,Vegetarian,
50.5

9.066

37.24

37.24

2.825

1.83

0.6

93.1
PANNA-COTTA
1 can low-fat (1.6%) evaporated milk (375ml)
1 tablespoon grated lemon rind
1 teaspoon pure vanilla essence (5ml)
1⁄2 cup sugar (110g)
1 cup natural greek yoghurt (250ml)
2 tablespoon lemon juice (40ml)
1 tablespoon water (20mL)
2 1⁄2 teaspoon gelatin (7.5g)
STRAWBERRY SAUCE
1⁄2 cup washed, hulled and finely chopped strawberries (100g)
2 tablespoon caster sugar (36g)
1⁄4 cup water (65ml)
PANNA-COTTA
Simmer (do not boil) milk with lemon rind for 5 minutes. Remove from heat and sieve and discard lemon rind. Stir in vanilla essence, sugar and yoghurt.
Mix lemon juice, water and gelatin together in a glass-measuring cup. Let stand for 5 minutes and then heat gently in microwave to melt.
Add to milk mixture.
Spray 6 x 1/2 cup ramekins or small teacups with oil spray.
Divide panna cotta between them.
Cover with plastic wrap and refrigerate for at least 12 hours or overnight.
If time is short, freeze for 1 hour first.
Ease panna-cotta around the top of mould and then dip ramekin in hot water for 30 seconds.
Unmould on to plate.
Pour 2 tablespoon of chilled strawberry sauce over each panna-cotta and serve.
STRAWBERRY SAUCE
Mix strawberries, sugar and water together.
Microwave for 2 minutes.
Chill.
Related recipes