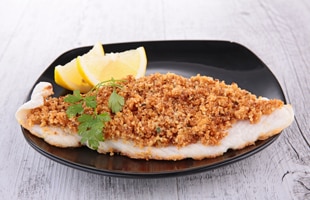 macadamia crumbed fish
Lunch,
Prep time : 35 minutes
Cooking time : 10 minutes
Serving : 4 person
Phase
Active 2,Active 1,Maintenance,
Dietary Requirements
Pescetarian,
519

34.3

17

1

35

8.4

1.3

231.3
4 fresh fish fillets (800g)
1⁄4 cup flour (35g)
1 small egg lightly beaten
1 tablespoon water (20mL)
1⁄2 cup bread crumbs (50g)
12 chopped macadamia nuts (30g)
1 tablespoon unsaturated oil (20mL)
Pat fish with kitchen paper to remove all moisture.
Dip in seasoned flour and then in beaten egg and water.
Mix bread crumbs and nuts.
Pat on to fish and refrigerate for 30 minutes to set.
Fry in a non-stick pan allowing 1 teaspoon of oil per fillet.
Serve with stir-fried low joule vegetables.