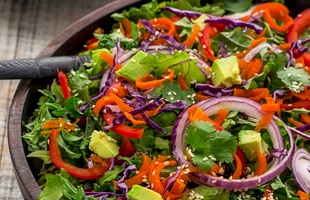 marinated kale salad
Dinner,
Prep time : 15 minutes
Cooking time : 30 minutes
Serving : 4 person
Phase
Active 2,Active 1,Maintenance,
Dietary Requirements
Pescetarian,
519

34.3

17

1

35

8.4

1.3

231.3
6 cup kale tough stems and centre ribs removed leaves finely chopped
1 medium stalk celery finely chopped
1 medium carrot julienne
1 medium red onion diced
1 large capsicum red chopped
1 cup cherry tomatoes halved
1 whole cucumber chopped
1⁄2 Lemon juice from 1 lemon
DRESSING
1⁄2 cup Orange juice from 2 oranges
Mix lemon juice and orange juice together.
Place chopped kale in a large bowl and add juice mixture.
Massage the kale leaves with the juice mixture and let marinate for 10-15 minutes to allow the flavours to soak into the kale leaves and for the leaves to soften.
Add the remaining salad ingredients to the bowl and mix well.