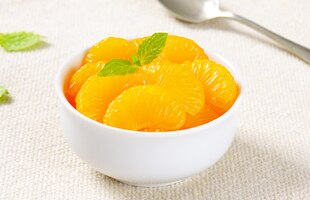 mint orange dessert
Dinner,
Prep time : 15 minutes
Cooking time : 75 minutes
Serving : 4 person
Phase
Active 2,Active 1,Maintenance,
Dietary Requirements
Lacto-vegetarian,Ovo-vegetarian,Pescetarian,Vegan,Vegetarian,
108

1.5

23

23

0.3

0.001

4.6

4.05
1⁄2 cup unsweetened orange juice (125mL)
1⁄2 cup water (125mL)
1⁄4 cup sugar (55g)
4 small oranges (400g)
1 tablespoon finely chopped mint (optional)
Bring orange juice, water and sugar to the boil to form orange syrup.
Allow to cool
Peel oranges with a sharp knife, removing all pith. This is easy to do with a serrated knife, holding the orange in the palm of your hand.
Slice the orange thinly and place attractively in a dish.
Sprinkle with finely chopped mint.
Pour warm orange syrup over oranges.
Leave flavours to blend for 1 hour or more in the refrigerator.
Related recipes