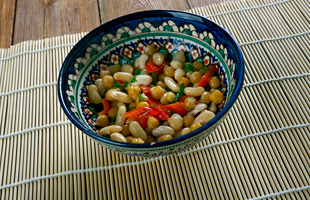 mixed bean and pineapple salad
Lunch,
Prep time : 15 minutes
Cooking time : 70 minutes
Serving : 6 person
Phase
Active 2,Active 1,Maintenance,
Dietary Requirements
Lacto-vegetarian,Ovo-vegetarian,Pescetarian,Vegan,Vegetarian,
312

16.5

30.3

17.4

11.01

1.7

14.6

603.2
310 gram can drained kidney beans
310 gram can drained mixed beans
310 gram can drained soybeans
2 cup cooked green beans
440 gram can chopped drained pineapple pieces (reserve juice)
1 large thinly sliced spanish onion
2 medium peeled and sliced red capsicum
DRESSING
1⁄2 cup concentrated tomato soup (125mL)
2 tablespoon white vinegar (40 ml)
2 tablespoon unsaturated oil (40 ml)
2 tablespoon reserved pineapple juice (40mL)
2 teaspoon sugar (8g)
Garlic salt to taste
Drain and rinse kidney, mixed and soy beans.
Toss with cooked green beans, pineapple, Spanish onion and red capsicum.
Mix tomato soup, vinegar, oil, pineapple juice, sugar and garlic salt together.
Add to bean mixture and refrigerate for an hour or more to allow flavour to blend.
Use any combination of dried or canned beans that are on hand keeping quantities the same.