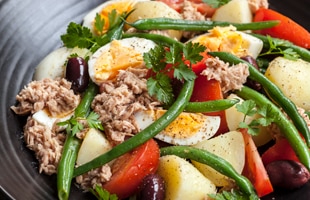 nicoise salad
Lunch,
Prep time : 20 minutes
Cooking time : 15 minutes
Serving : 6 person
Phase
Active 2,Active 1,Maintenance,
Dietary Requirements
Pescetarian,Paleo,
317

27.4

27.6

5.3

9.2

2.2

5.3

467.5
12 small chat potatoes, halved
150 gram baby spinach
1 cup halved cherry tomatoes
200 gram baby green beans, trimmed and blanched
400 gram can tuna in water, drained
8 pitted black olives, halved
1⁄3 cup fresh basil leaves
4 hard-boiled eggs, peeled and quartered
1⁄4 cup low-fat mayonnaise
1 tablespoon Dijon mustard
2 teaspoon Lemon juice
Freshly ground black pepper
Boil potatoes in a saucepan for 8-10 minutes or until cooked. Drain.
Combine spinach, tomatoes, beans and potatoes in a large serving bowl.
Flake tuna over the top and scatter with olives, basil and eggs.
Combine mayonnaise, mustard and lemon juice and drizzle over salad.
Season with pepper.