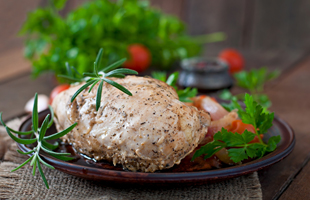 roast chicken french style
Lunch,
Prep time : 15 minutes
Cooking time : 90 minutes
Serving : 6 person
Phase
Active 2,Active 1,Maintenance,
Dietary Requirements
Paleo,
338

37.4

0.2

0.2

21

6.4

0.9

109
1 1⁄5 kilogram free range chicken (whole)
1⁄2 cup parsley (50g)
1⁄2 cup chopped chives or spring onion (50g)
1⁄2 cup mixed garden herbs e.g. thyme, tarragon, mint, marjoram
Wash and dry chicken.
Pull skin gently away from chicken breast and top of legs.
Place all herbs in a food chopper and process to a fine paste.
Using hands, gently spread mixed herbs between skin and flesh, distributing as evenly as possible.
Bake in a 180ºC oven or a barbeque with lid for about 1½ hours or until done.
Remove from oven, discard skin and serve.
The flavour will have permeated the flesh.