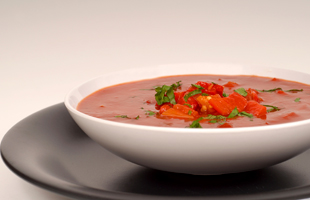 roasted red capsicum and tomato soup
Dinner,
Prep time : 10 minutes
Cooking time : 60 minutes
Serving : 4 person
Phase
Intensive,Active 2,Active 1,Maintenance,
Dietary Requirements
Lacto-vegetarian,Ovo-vegetarian,Pescetarian,Vegan,Vegetarian,
80

4.2

9.2

8.02

2.03

0.3

4.2

532
2 red capsicums, halved and seeded
1 teaspoon of olive oil
1 large onion, finely sliced
2 clove garlic, crushed
1 tablespoon tomato paste
750 gram ripe tomatoes, roughly chopped
2 cup vegetable stock (made with powdered stock or cubes)
1 teaspoon artificial sweetener
1 handful basil, torn
Preheat oven to 180°C.
Place capsicums in a shallow baking dish, skin side up and spray with olive oil. Roast for 25 minutes or until softened.
Remove from oven, cover with foil, and allow to cool slightly.
Peel off and discard skin and roughly chop flesh.
Spray a large saucepan with oil and place on medium heat.
Add onion and sauté until soft.
Add garlic and tomato paste and cook for 2 minutes, stirring constantly.
Add capsicum, tomato and stock, then cover and simmer for 15 minutes.
Allow to cool slightly, then puree using blender or hand held processor. Season to taste.
For a sweeter soup, add Equal.
Reheat soup and serve sprinkled with basil.
Related recipes