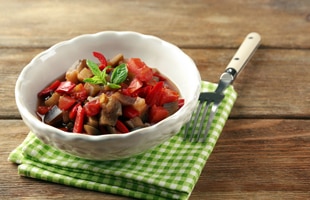 sicilian vegetable stew
Lunch,
Prep time : 60 minutes
Cooking time : 30 minutes
Serving : 8 person
Phase
Intensive,Active 2,Active 1,Maintenance,
Dietary Requirements
Lacto-vegetarian,Ovo-vegetarian,Pescetarian,Paleo,Vegan,Vegetarian,
112.8

3

7.4

6.6

6.6

0.9

5.5

331.6
1 kilogram eggplant
250 gram onions, thinly sliced
1 tablespoon olive oil
500 gram ripe tomatoes, seeded and cut into strips
2 tablespoon capers, drained
3 celery stalks, chopped
150 gram olives
1⁄3 cup vinegar of any kind
1 teaspoon Splenda
Wash the eggplants and cut into small pieces.
Put them into a large strainer and sprinkle with salt.
Set aside to drain for at least 1 hour.
Meanwhile, combine the onions with half of the olive oil in a wide, shallow pan.
Cook until golden.
Add the tomatoes, capers, celery and olives.
Mix well and cook for 15 minutes, set aside.
Rinse the eggplant and dry completely.
Heat the remaining oil in a pan over high heat.
When the oil is hot, add the eggplant pieces and fry until well browned.
Drain.
Stir the eggplant into the tomato mixture.
Sprinkle on the vinegar and Splenda and return to low heat.
Cook until the vinegar completely evaporates.
Serve either warm or cold.