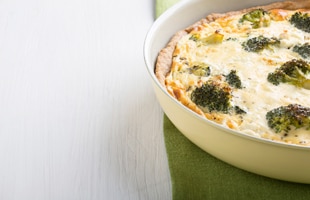 spring vegetable omelette
Lunch,
Prep time : 15 minutes
Cooking time : 20 minutes
Serving : 4 person
Phase
Active 2,Active 1,Maintenance,
255

17.05

5.9

3.5

18.1

7.7

1.8

570
4 Asparagus spears, sliced
1⁄2 cup broccoli florets
1⁄2 cup chopped capsicum
1⁄2 onion
1⁄2 cup sliced sweet potato
6 eggs
2 tablespoon water
1 1⁄2 teaspoon Chicken Stock
2 tablespoon butter
1⁄2 cup grated Parmesan cheese
Place vegetables into a pan of boiling water and cook for 1 minute.
Drain, rinse under cold water then drain thoroughly.
Whisk eggs, water and Chicken Stock Powder in a large bowl.
Stir in vegetables and toss well.
Heat butter in a large frying pan over a moderate heat.
Pour in egg mixture.
Cook until the eggs are set but the top is still moist..
Sprinkle with cheese and place under a preheated grill.
Cook until golden then serve immediately cut into wedges.