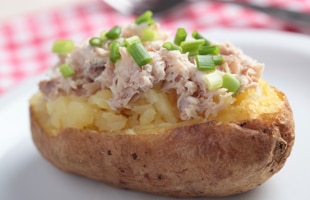 stuffed baked potato
Breakfast,
Prep time : 5 minutes
Cooking time : 40 minutes
Serving : 1 person
Phase
Active 2,Active 1,Maintenance,
Dietary Requirements
Pescetarian,
270

27.26

17.6

2.3

9

5.2

4

405.5
1 medium potato (150g)
60 gram drained tuna in brine
1 stick finely chopped celery (20g)
1⁄4 cup grated low fat cheese (30g)
2 tablespoon cooked peas
Wash and prick a large baked potato.
Cook in microwave for 5 minutes.
Transfer to hot oven for a further 20 minutes or until easily pierced with a fork.
Remove, split in half and scoop out flesh leaving shell.
Mix potato, tuna and celery together.
Fill shell and top with grated cheese and peas.
Return to oven for cheese to melt for 10 minutes or until heated through.
Related recipes