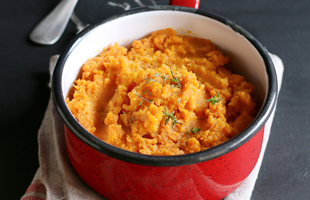 three vegetable mash
Lunch,
Prep time : 10 minutes
Cooking time : 15 minutes
Serving : 4 person
Phase
Active 2,Active 1,Maintenance,
Dietary Requirements
Lacto-vegetarian,Ovo-vegetarian,Pescetarian,Paleo,Vegan,Vegetarian,
72

2.1

13.5

5.2

0.14

0

2.3

6.4
1 medium peeled potato (150g)
1 small peeled sweet potato (150g)
1 piece peeled pumpkin (150g)
Salt and pepper to taste
Cook in microwave or steam for 12-14 minutes.
Drain any liquid and then mash and whip until fluffy.
Season to taste with salt and pepper.
This is ideal to serve with a chicken or meat casserole in winter.
Adding the pumpkin keeps the kilojoules and carbohydrate under control.
A whole head of peeled garlic may be cooked with the vegetables and then the flesh squeezed out on to the vegetables before whipping.