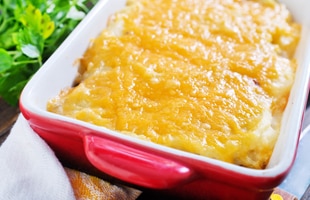 tuna hot pot
Dinner,
Prep time : 20 minutes
Cooking time : 30 minutes
Serving : 4 person
Phase
Active 2,Active 1,Maintenance,
Dietary Requirements
Pescetarian,
310

34.7

19.6

7

9.3

3.8

3.26

573.8
3 medium tomatoes sliced (300g)
440 gram can tuna tin brine drained
3 medium potatoes cooked and sliced (300g)
1 tablespoon unsaturated margarine (20g)
1 tablespoon plain flour (10g)
1 pinch cayenne pepper
1 cup non-fat milk (250mL)
1⁄2 cup 25% fat reduced cheese (60g)
Grease a 1 ½ L casserole dish.
Place one half of the tomatoes in the bottom of the dish followed by the coarsely flaked drained tuna.
Layer the remaining tomato on top of tuna followed by the sliced cooked potato.
Prepare the white sauce by melting the margarine, stirring in the flour and pepper to form a smooth paste.
Add milk slowly while stirring over low heat until thick and smooth.
Stir in the grated cheese.
Pour sauce over the potatoes and bake in a 200ºC oven for 20 minutes.
Related recipes