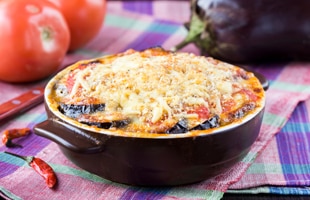 vegetarian moussaka
Lunch,
Prep time : 20 minutes
Cooking time : 65 minutes
Serving : 6 person
Phase
Active 2,Active 1,Maintenance,
Dietary Requirements
Lacto-vegetarian,Vegetarian,
250

17.4

27.7

14.5

6.5

3.4

7.1

645.5
1 eggplant, sliced
1 teaspoon of olive or canola oil
1 onion, diced
1 teaspoon crushed garlic
1⁄2 red capsicum, deseeded and diced
2 zucchini, diced
6 button mushrooms, diced
440 gram can diced tomatoes
150 gram tomato paste
1 tablespoon Soy sauce
1⁄2 teaspoon dried oregano
1⁄2 tablespoon dried basil
375 gram low-fat ricotta cheese
150 milliliter Light Evaporated Milk
5 potatoes, sliced and par-cooked (preferably steamed)
1⁄4 cup grated low-fat cheese
1⁄4 cup sliced sun-dried tomatoes (not in oil)
green salad to serve
salt and freshly grounded black pepper
Preheat oven to 180°C (350°F) and grill or barbecue grill plate to medium-high heat.
Lightly spray eggplant with oil and grill or barbecue, turning once, for 3-5 minutes or until cooked through.
Set aside.
Spray a frypan with oil and cook onion, garlic and capsicum over medium heat for 5 minutes or until soft.
Add zucchini, mushrooms, tomatoes, tomato paste, soy sauce and herbs, season with salt and pepper, then simmer for 15 minutes or until the sauce thickens slightly.
Combine ricotta cheese and milk in a bowl.
Cover the base of a lasagne dish with a layer of potato slices, followed by a layer of eggplant, then a layer of vegetable mix.
Repeat, then top with ricotta cheese mix.
Sprinkle with grated cheese, then evenly place sun-dried tomatoes on top.
Bake for 30-40 minutes or until golden brown.
Serve with bread rolls and salad.