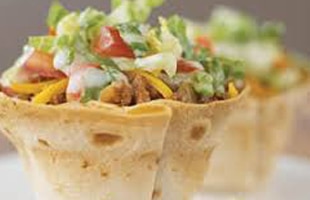 chef in a basket
Dinner,
Prep time : 15 minutes
Cooking time : 10 minutes
Serving : 1 person
Phase
Active 2,Active 1,Maintenance,
Dietary Requirements
Paleo,
279

19.3

17.4

7.0

13.6

5.2

4.4

842
1 tortilla (47g)
1⁄2 cup shredded lettuce (50g)
1⁄2 medium tomato or 4 cherry tomatoes (50g)
30 gram cooked ham cut into strips
1 tablespoon low-fat grated cheese (10g)
1 hard cooked egg (50g)
4 canned asparagus spears (50g)
2 teaspoon low-fat mayonnaise (10g)
2 teaspoon low-fat yoghurt (10g)
Sprouts to garnish
1⁄2 teaspoon grained mustard (2.5g)
Turn a 2 cup Pyrex measuring cup upside down and spray the base with oil.
Place 1 tortilla over the bottom of it and microwave on high for 1 minute, remove and shape into a bowl with an oven mitt.
Return to the microwave and cook for 1-1 1/2 minutes more, or until brown spots appear and it is crisp.
Fill tortilla with shredded lettuce, wedges of tomato, match stick strips of ham and hard-boiled egg.
Top with grated cheese, sprouts and asparagus spears.
Garnish with dressing made of mayonnaise, yoghurt and mustard.
Related recipes