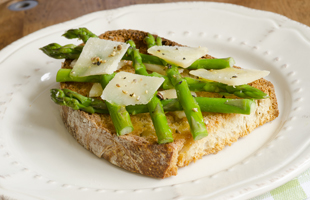 fresh asparagus and cheese sauce on toast
Breakfast,
Prep time : 10 minutes
Cooking time : 5 minutes
Serving : 1 person
Phase
Active 2,Active 1,Maintenance,
Dietary Requirements
Pescetarian,Lacto-ovo vegetarian,Vegetarian,
340

12.4

43.4

4.6

11.4

2.2

7.6

412.1
1 bunch fresh asparagus
2 slice grain toast
CHEESE SAUCE
2 teaspoon margarine
1 tablespoon plain flour
1⁄4 teaspoon dry mustard
3⁄4 cup non-fat milk (187ml)
1⁄4 cup grated low-fat cheese (30g)
Cut and discard bottom third of asparagus, wash well.
Place asparagus in a microwave dish with heads turned towards the middle in a fan shape.
Cover with plastic wrap, add 2 steam holes and microwave for 4 minutes.
Prepare the cheese sauce by melting the margarine in a measuring cup in the microwave.
Stir in the flour and mustard to form a smooth paste.
Stir and slowly add the milk.
Return to the microwave, stirring periodically and cooking until thick and smooth.
Place cooked asparagus on 2 pieces of toast.
Pour over sauce, sprinkle with paprika and serve.
Related recipes