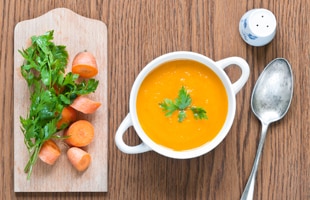 golden carrot soup
Dinner,
Prep time : 10 minutes
Cooking time : 40 minutes
Serving : 4 person
Phase
Active 2,Active 1,Maintenance,
Dietary Requirements
Paleo,
132

2.1

7.1

6.0

9.7

1.7

5.1

966
2 tablespoon olive oil
5 large winter carrots, diced
1 large onion, chopped
2 garlic cloves, crushed
3 bay leaves
1 1⁄4 tablespoon Chicken or Beef Stock
Freshly ground black pepper
flat-leaf parsley, to serve
Heat oil in a large saucepan.
Add the carrots, onion, garlic and bay leaves and cook for 10 minutes.
Put the prepared stock in another saucepan and bring to the boil.
Pour the boiling stock over the vegetables and simmer for 15 minutes, or until tender.
Remove the pan from the heat and remove the bay leaves.
Allow the soup to cool a little, then transfer to a food processor or blender and puree until smooth.
Season with pepper.
If the soup is too thick, add some extra stock.
Serve garnished with parsley.
Related recipes