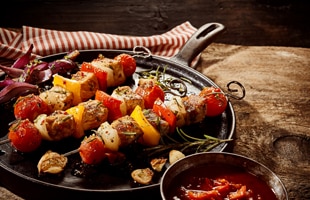 beef and capsicum kebabs
Dinner,
Prep time : 45 minutes
Cooking time : 15 minutes
Serving : 4 person
Phase
Active 2,Active 1,Maintenance,
Dietary Requirements
Paleo,
410

47.6

9.4

8.4

19.6

7.7

2.5

966
2 tablespoon minced garlic
2 tablespoon Sweet Chilli Sauce
2 tablespoon Soy sauce
8 skewer sticks
500 gram rump steak, cut into cubes
1 small red capsicum
1 small green capsicum
16 cherry tomatoes
8 button mushrooms, halved
1 small red onion, cut into wedges
Combine the marinade ingredients in a ceramic or glass bowl.
Add the beef to the marinade sauce and turn to coat thoroughly.
Cover and leave for 30 minutes or up to 24 hours.
Place the meat in the fridge if marinating for longer than 30 minutes or during very hot weather.
Soak skewers in cold water whilst preparing the vegetables
Cut the capsicum into small squares.
Thread the beef on to the skewers, alternating with the vegetables.
Preheat a grill or barbecue grill plate to moderately hot, and cook the skewers for 6 minutes, turning once halfway through.
Serve immediately.
Related recipes