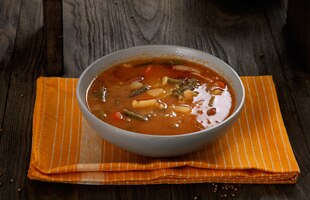 middle-eastern spice stew
Dinner,
Prep time : 15 minutes
Cooking time : 40 minutes
Serving : 4 person
Phase
Intensive,Active 2,Active 1,Maintenance,
Dietary Requirements
Lacto-vegetarian,Ovo-vegetarian,Pescetarian,Paleo,Vegan,Vegetarian,
45

2.05

5.5

4.4

0.95

0.1

3.04

148.4
3 tablespoon vegetable stock
1 green capsicum, seeded and sliced
2 medium zucchini, sliced
2 celery sticks, sliced
400 gram can chopped tomatoes
1 teaspoon chilli powder
2 tablespoon chopped fresh mint
1 tablespoon ground cumin
Black pepper
Mint sprigs, to garnish
Heat vegetable stock in a large flameproof casserole dish until boiling.
Add sliced capsicum, zucchini, carrots and celery.
Stir over high heat for 2-3 minutes until the vegetables are just beginning to soften.
Add the tomatoes, chilli powder, mint and cumin.
Reduce heat, cover the casserole and simmer for 30 minutes or until all the vegetables are tender.
Season to taste with pepper and serve hot, garnished with mint leaves.