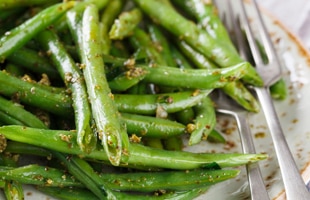 minty green bean salad
Dinner,
Prep time : 15 minutes
Cooking time : 20 minutes
Serving : 4 person
Phase
Intensive,Active 2,Active 1,Maintenance,
Dietary Requirements
Lacto-vegetarian,Ovo-vegetarian,Pescetarian,Vegan,Vegetarian,
93.1

3.7

5.5

3.2

5

0.8

5.3

10.3
1⁄4 cup water
1 teaspoon white sugar
500 gram fresh green beans
4 clove garlic, thinly sliced
2 sliced onions, chopped
1 sprig fresh mint leaves
1 tablespoon olive oil
1 tablespoon cider vinegar
1⁄2 tablespoon minced garlic
1⁄4 teaspoon dried basil
1⁄4 teaspoon prepared mustard
Pepper to taste
In a medium saucepan, bring the water and sugar to the boil.
Cook green beans for 10 minutes or until tender but crisp. Drain.
Transfer green beans to a medium bowl, and mix with garlic, onion, and mint.
In a small container with a lid, mix olive oil, cider vinegar, garlic, basil, mustard, salt, and pepper. Shake until well blended then toss into the green bean mixture.