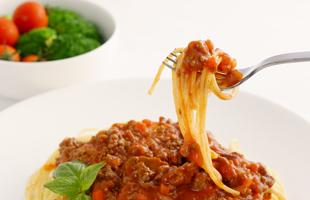 pasta with beef and vegetable sauce
Dinner,
Prep time : 15 minutes
Cooking time : 25 minutes
Serving : 1 person
Phase
Active 2,Active 1,Maintenance,
503

41

43.4

14.1

16.5

8

7.7

388
120 gram lean mince
1 chopped onion
1 chopped mushroom
1 grated zucchini
1 grated carrot
1⁄2 cup cooked pasta noodles
1 tablespoon low fat cheese
mixed green salad dressed with fat free dressing
tomato based pasta sauce
Lightly spray a non-stick pan with olive oil spray.
Add mince, cook until well browned then remove to a plate.
Add vegetables to same pan and cook gently for a few minutes.
Return cooked meat to pan with vegetables and add the pasta.
Simmer until cooked.
Pour sauce over cooked pasta,
Sprinkle with cheese,
Serve with mixed green salad.